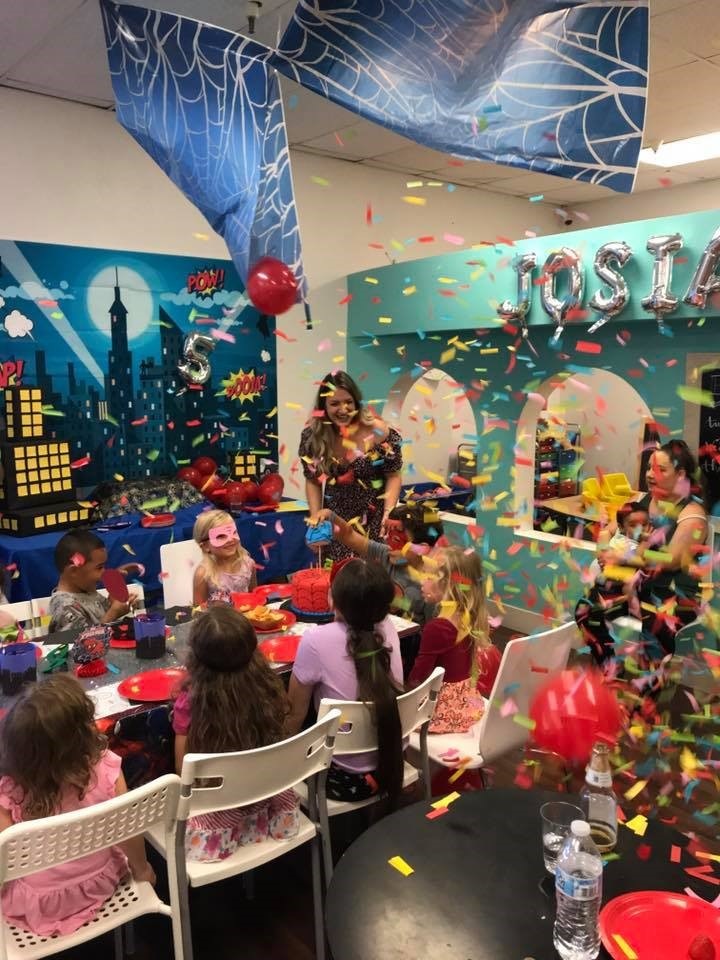 BusyKids indoor party center is the perfect place to host your child's party, event, or celebration! Whether it's a birthday party, team event, or a special occasion celebration, we will make your party wishes come true! Plan your child's next birthday party with one of our incredible party planners who take care of everything to make your party fun and dreams come alive! Our party hosts are here to assist you in planning, setting up and cleaning up after your party.
We offer Private birthday parties on Saturdays and Semi-Private parties every other day of the week. whether you like the simple life or all out Pinterest, we have a plan for you! We create a unique party experience that your child will enjoy and talk about for years to come.
While your child enjoys playing with friends, you can engage with your guests and enjoy some adult time. Our coffee shop serves a wide range of cafe drinks including beer and ciders. Our party planners are happy to help. INQUIRE TODAY!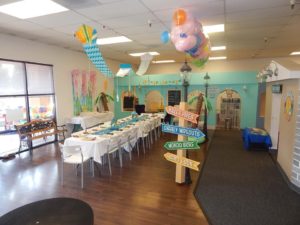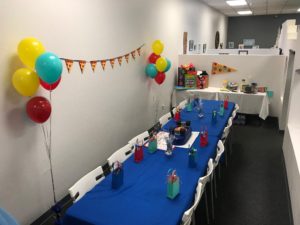 Basic Party Package
$175 + Food
Sundays during open play only
12 children
2 hours in our semi-private room and access to coffee shop and entire play town
Designated party attendant
Crown or Tiara for Birthday Child
Tables, Chairs and Tableclothes
1 FREE Play Pass for the birthday child (for future use)
10% discount for members
Additional children are $10 each
Premier Party Package
$265 + Food
Saturdays only
12 children
2 Private hours at BusyKids and full access to coffee shop and entire play town
Designated party attendant(s)
Crown or Tiara for Birthday Child
Tables, Chairs and Tableclothes
1 FREE Play Pass for the birthday child (for future use)
10% discount for members
Additional children are $10 each
Deluxe Party Package
$470 + Food
Saturdays only
20 children
Decorating service using decor or activities provided by guest
20 goodie bags with $5 gift card inside to match decor provided
2 Private hours at BusyKids and access to coffee shop and entire play town
Designated party attendant(s)
Crown or Tiara for Birthday Child
Tables, Chairs and Tableclothes
1 FREE Play Pass for the birthday child (for future use)
10% discount for members
Additional children are $10 each
Additional goodie bags are $5 each
Doughnuts, Bagels & Cream Cheese and Small Fruit Platter OR 2 Large one-topping (double cut) pizzas OR Lunch bunch.
Juice/water (1 per person)
Cupcakes
Doughnuts, Bagels & Cream Cheese and Small Fruit Platter OR 2 Large one-topping (double cut) pizzas OR Lunch bunch.
Juice/water (1 per person)
Cupcakes
Mini Popcorn Bar
Also Available by Request
$25 - Photos taken during party & emailed
$35 - Dozen balloon bundle
$100 - Balloon & Confetti Drop
$5 - Goodie Bags (each)
$140 - Fairytale Princess or Superhero* (1 hour)
$100 - Bounce House
$12 - 12" Pepperoni or Cheese Pizza - $15 Gluten-Free Option
$1.50 - Juice
$1 - Bottled Water
$25 - Coffee Carafe
$70 - Popcorn Desert Bar
$30 - Cotton Candy Bar
$40 - Hot Chocolate Bar
$10 - Additional Guests (each)
$100 - Additional Hour of Play
$30 - Additional Party Host (mandatory for +20 children)